Large arbour reel with a finely tuned purr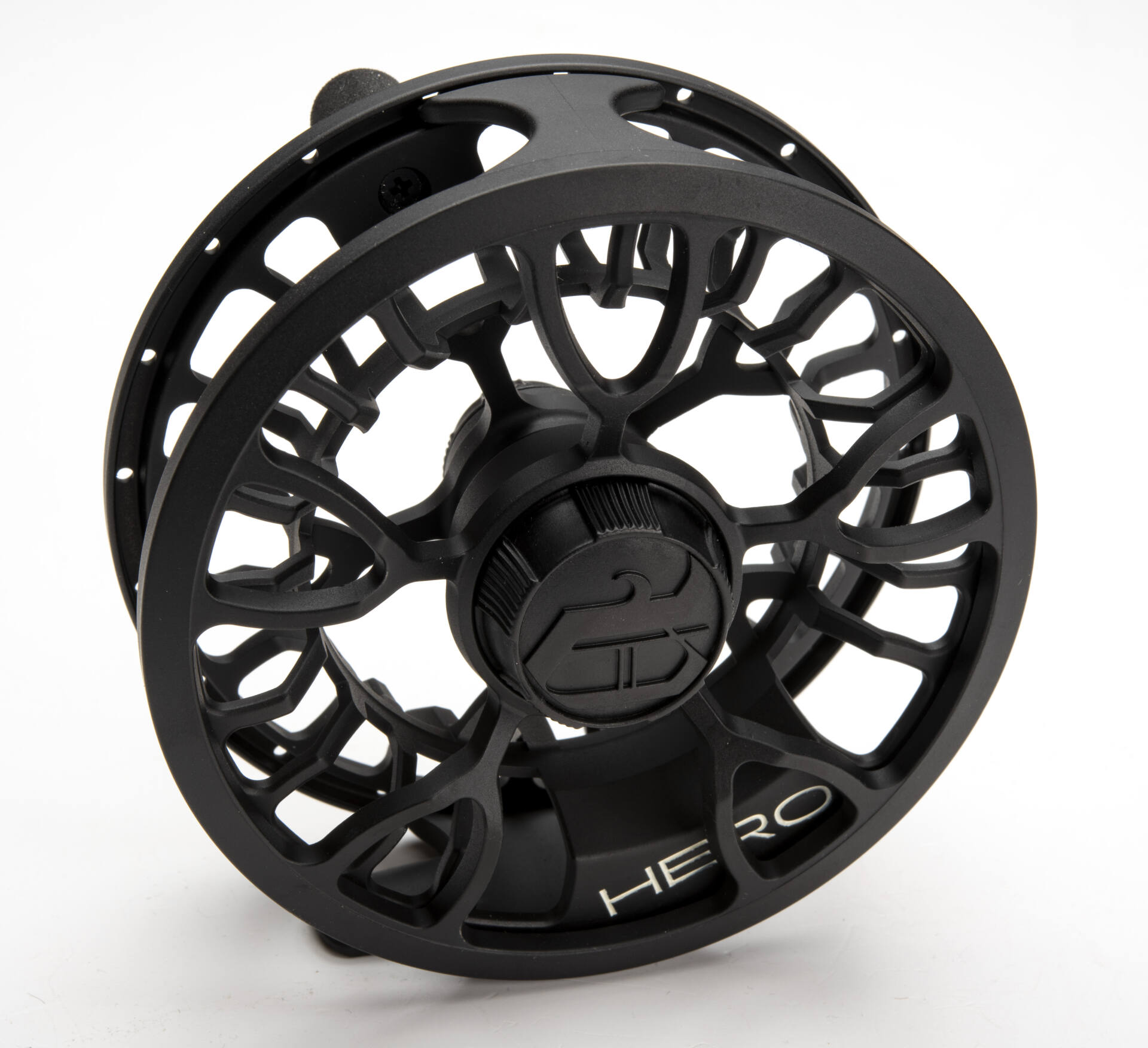 Vision Hero 79 large arbour fly reel.
Clearly a large arbour reel. The body is 'half-frame' which keeps the weight down, less complicated machining, not quite as rigid. The spool fixes to the body with a captive nut, very secure, no wiggle between the body and spool. The disc drag is sealed.
This Hero 79 sample is matt black, it also comes matt green. Both the body and spool are cast aluminium, which is then CNC machined. Casting aluminium parts is less costly than machining from solid aluminium. Cast parts can be clumsy, thick, but there's little of that here. When cast parts are machined and finished well they look and feel very good – this is a nicely finished reel. The down side of casting: parts can be a little more fragile, breaking rather than bending, and the complete reel can be a little heavy – this is 159g. I'm not about to bounce this Hero on a concrete floor – thing is, I have dropped and dented barstock reels, so I see little difference.
Listed as 79 reel, Vision give a line capacity of WF8 with 130 metres of 20lb backing. The specifications mention fishing for predators and light saltwater, I might fit this to the butt of a 10ft #7 and head for fishing a large stillwater.
The disc-drag is sealed, covered by a plastic cover, screwed in place – hence this can be used in salt, and washed carefully afterwards! This comes set for left-hand wind, and needs a cross-head screwdriver to remove the drag cover and reverse a bearing – an easy job!
The drag is very smooth, according to the blurb Vision use carbon and stainless steel drag surfaces – I have no idea if that's good. The effect is a drag which adjusts well, I can fine-tune the lower drag range – ideal for the type of lake and reservoir fishing I'd want this for. Oh, and I like the clicking purr as the spool turns in both directions. Nice reel!
Price: list price £129.99 (£116.99 from Anglers Lodge)
From: Vision stockists
Sample from The Anglers Lodge
www.anglers-lodge.co.uk