New Zealand is revered by fly fishers as one of the top destinations for travel, but since the Covid-19 pandemic took hold, it has become one of the most highly protected and insular countries, with the toughest of travel restrictions, excluding all visitors and nearly all fly-fishing tourists. Now, plans are being laid down for opening up its borders once again.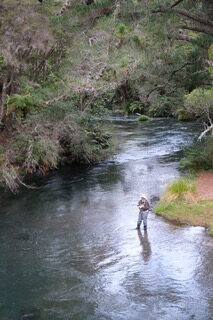 One of the last fly-fishing events to take place before New Zealand went into lockdown was the Commonwealth championships, which took place in March 2020, when some team members who stayed on to enjoy some more fishing and the sights ended up being stranded and isolated in New Zealand for weeks, unable to get a flight out of the country.
Now, things are changing, slowly. The country will open in stages, firstly, in January, to fully vaccinated New Zealand citizens and residents who are currently in Australia. Then New Zealand residents from other countries will be allowed in from February 13, and lastly, on Saturday, April 30, fully vaccinated visitors will be allowed to enter, on the proviso that they will self-isolate for seven days upon arrival and can produce a final, negative test.
Travellers will be required to provide proof of vaccination, a negative pre-departure Covid-19 test and a passenger declaration of travel. Unfortunately for fly fishers, this will come towards the end of the New Zealand fishing season, so most will have to wait for yet another six months or so before they can think about visiting.
The news comes as the country enters a phase of local 'traffic light' systems where, in the case of a red warning, action will be taken to bring down case-levels within regional boundaries. The government stated: "Closing our border was one of the first steps we took to keep our country safe from Covid-19 and it'll be the last thing we open up, following our transition into the traffic light system…
"We are making this announcement to give families, businesses, visitors and airline and airport companies certainty and time to prepare. It's very encouraging that as a country we are now in a position to move towards greater normality".
It added that the travel restrictions would "continue to be reviewed against the risk posed by travellers entering New Zealand."
Details about how self-isolation will be implemented will be released in December, and this will include travellers' guidance on transit from the airport to their location, and requirements for isolation. Also, a digital health declaration system will be brought in towards the end of March 2022 to assist airlines in implementing checks of passengers' compliance with the travel requirements.
At least the fishing will be well rested come winter 2022.
Share