Bob Wyatt uncovers the big bonefish flats fishing destination of New Caledonia, 2 hours from Sydney.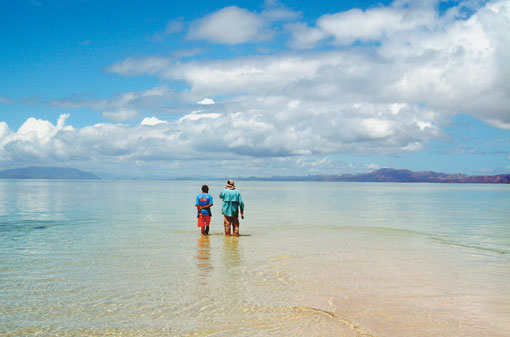 At first, it was hard to accept the place at face value. I watched a young Kanak woman probe the branches of a beach palm with a long pole for some time before I realised she was gathering food. After a couple of days, I got to know it was dinner-time when the older women appeared on the beach, fishing with hand lines, clearly on the pre-supposition that something to eat would present itself.
I was in New Caledonia to investigate whispered reports of unexplored bonefish flats, the broad shallow areas of white coral and shell marl that give the Coral Sea's littoral zone that exquisite pale emerald colour. Bonefish, the strange torpedo-shaped, mullet-like fish that hunt the marl flats on the flooding tide, make for arguably the greatest light-tackle experience – the astonishing 100-yard plus dash for deep water when they feel the resistance of the rod. If you were not a fly-fisher, this would not interest you. Nor would the stoned feeling of wading a mile off-shore in a foot and a half of shimmering water under that enormous blue dome of sky. These things are reserved for fly fishers.
Arguably, there is a distinction between active travelling and passive tourism. If you are a traveller, what will interest you about New Caledonia is the lack of human habitation and commercial development, the 1950's French colonial feeling of the Kanak villages, the impossibly white beaches and wild islands with no living soul on them – and the inescapable, anxiety-producing certainty that this cannot last. By the way, my own guilt-induced anxiety is peaking as I write this.
Active travelling can get you into a situation where a degree of self-reliance is necessary. The rudimentary tourist amenities of New Caledonia's Northern Province put it on the cusp between travel and adventure. You know you're having an adventure when you wonder intermittently if the whole idea was a horrible mistake. Unless you ride the local bus, you will need a rental car for the five-hour drive from Noumea to the top end. The hard surface extends to the tiny hamlet of Poum, and with any rain the road from that point north quickly turns to caramel pudding, so you should probably make the financial stretch for a 4×4 if only for that leg of the journey. I made it from the all mod-cons complex at Malibu Beach to Poingham by doing some world-class rally driving in a sky-blue golf cart called a Twingo, but let me tell you, it was a close-run thing.
I had arrived with a plan to hook up with Philippe Leroux, a young ex-Parisian cut from the old-style romantic cloth. Philippe is working as a consultant to the local Kanak people, assisting them in creating the area as an international fly-fishing destination. They have acquired a couple of good, fast boats and Philippe has been training several of the local young men as fly-fishing guides. Philippe himself guides, and organises the day, usually taking up a supervisory role while the boys work with the anglers to find fish.
It was too early in the year for the really good fishing: still a lot of rain about and the tides were not right, said Philippe over a beer at the Relais de Poingham. I didn't mind because it all seemed so strange and amazing to me anyway, and even the sight of a bonefish would make the trip worthwhile. We made an arrangement to be picked up from the beach in front of our cabana next morning.
I awoke to a stunning blue sky and dazzling sunlight flashing through the coconut palms. After café au lait and toast, I took the gear down to the beach and waited for Philippe. There was not another boat on the water in any direction, but soon I saw one heading our way from the north end of the island. All the recent rain had clouded the water in Boat Pass, a favourite narrows just a mile or so from the Relais, so after introducing me to Herve, our guide for the day, Philippe ran us out to a large island a few miles to the east. We were within a mile or so of the island when we suddenly ran out of water. Philippe idled the boat along the edge of a great white coral-sand shelf and anchored it in only a few inches of water.
Fly fishing a big salt flat can be described as something like entering an altered state. The feeling is really quite strange, completely out of our ordinary experience. The only thing I can maybe compare it to is shooting sharptail grouse on the fenceless areas of short-grass prairie of western North America If you are the slightest bit agoraphobic it may not be the most agreeable feeling, but I can't imagine that a drug could induce a more exhilarating sensation, at once dreamlike and absolutely real and physical. Space is the world's last great luxury, certainly as addictive and expensive as cocaine – and believe me, the experience is worth every penny.
Herve and I hopped out of the boat into the transparent, blood-warm water and started wading down the edge of the great white flat. There were dark patches of weed and coral here and there, and I immediately flushed an almost invisible ray. They were everywhere, noticeable only when they moved and you saw their shadow, and over the next few days I flushed dozens of them. I strained to see the torpedo shaped shadow of a bonefish as we stalked carefully down the gently sloping edge of the flat and had a desperate feeling that maybe I wouldn't be able to see them at all. Herve wasn't doing any better than I was though, and my confidence in seeing fish jumped when I spotted the first one.
The fish looked like a pretty good-sized one as it moved rapidly past us just beyond casting range. There was no way to intercept it, and we just watched it go. Seeing that first bonefish really got me pumped up, but we waded the length of the tongue of sand without seeing another. After an hour, we returned to the boat at Philippe's signal and headed for another spot. Philippe told me that the tide was a bit high and not quite right for bones, so we would fish a place where I'd get some shots at both bones and trevally.
We beached the boat on the shore of a deserted island and Philippe and I split up to search for fish. I worked a long ridge of rock that looked very fishy, throwing a long line and stripping the baitfish imitation back in long, fast pulls. Almost immediately I saw fish working just beyond casting range, but was frustrated by the wind and rocky bottom. I really needed a stripping basket for that work, and the afternoon wind was rising and confounded my efforts to reach the fish, whipping and twisting the big loops of line before I could shoot them. Despite the wind, we managed a couple of nice trevally, and for the time being they became my favourite saltwater game fish.
You don't hear much about these beautiful fish, but they are great sport even in the modest sizes we were catching them, hard runners that respond well to the fly. They are interesting fish too; we couldn't get them to do more than follow until we trimmed most of the Mylar material from the wing of our flies. There are many varieties of trevally, including the 100lb-plus giant trevally, or GT, that will give you a severe doing, and if it weren't for bonefish and the larger tackle busters that share the same water, they would get top billing. They also make for superb eating, as I was to discover later. We finished the afternoon without a bonefish, but I found I didn't have the slightest feeling of disappointment. In fact, the day had whetted my enthusiasm – that fishing thing that only anglers understand. I couldn't wait until next morning.
It came soon enough, and I was pacing up and down the beach long before Philippe and Herve arrived for our pick-up. By now, Herve and I had bonded and were conversing in a strange blend of pidgin French and hand signals, but with perfect understanding. We were even telling jokes. Don't ask me how, but they were hilarious at the time. I suspect you had to be there. Anyway, Herve made it clear to me that bonefish were a done deal.
Phillipe took us just around the bay to Boat Pass, within walking distance of the Poingham camp and only minutes by boat. At first glance it was fish country, and one could easily spend all the time on the network of flats and channels in this one narrow neck of water between the mainland and a big island. The tide runs like a great river through the pass, with rips and rapids forming on all sides. A great wide coral sand flat ran from one side of the pass to the other, almost completely wadeable with patches of dark weed and deeper pockets of green water here and there.
Philippe put Herve and I out to work the main flat while he prospected down the bar into the big southern bay. It like fishing a big shallow river, the current sweeping the fly around slowly downstream. Within ten minutes Herve spotted the first pod of bones, four fish working up the current, and nudged me to make ready to cast. He gestured for me to throw well ahead of the fish but I misjudged the strength of the wind and a gust brought the line down on top of the fish. They all turned tail instantly and made for deep water. Five minutes later I did the same thing when I couldn't see the target, and began to get anxious about blowing some good chances. I told myself to calm down and focus on the next opportunity. It wasn't long before I got my chance, three fish working slowly up current within 15 yards of us. Herve gave me the 'freeze' sign and pointed out the target. I was already on it by then and managed a decent cast upwind about ten feet ahead of the fish.
I had to give some lead to allow the fly to reach bottom before the fish arrived, and was worried they might not see it, but Herve suddenly nudged me again, 'ready!' The lead fish was within 5ft of the fly and I gave it a short pull to stir it from the bottom. My heart stopped for a moment as the fish darted forward. Then the wind gusted and I could see nothing through the broken dazzle of the surface. I tightened on the line and felt the live weight and yanked hard on the line. There was a tremendous surge and a frightening weight for a moment as I raised the rod … and away we went. I was into my first bonefish. Unbelievable.
Be prepared
This is no bull. On its first run, that fish ran and did not stop for 150 yards. It stopped for a breather and ran another 75 yards in the same direction. I've never had so much line out. And pull? I expected a pull, but this was really something. This first fish weighed only about 7lb but pulled like a fresh-run salmon three times its weight. And no salmon ever runs like that. I felt comfortable with my eight-weight Powell AXS and a biggish reel with a nine-weight SA clear Intermediate and 250 yards of gel-spun backing. I felt a number nine line was a minimum for the windy conditions I experienced in April, and Philippe likes a nine-weight outfit himself. Don't underestimate the amount of backing you might need. You might never need the whole 200 yards, but chances are you'll be glad of it sooner or later.
Flies for New Caledonia don't seem to be critical and the good flats patterns developed recently will do nicely. I tied up some on the Crazy Charlie design, and found that I got most responses to a dull, buggy looking combination of hare's ear and white polar bear. The hare's ear body appealed to my trout fisher's instincts and it showed up well enough in the slightly cloudy water of Boat Pass, inspiring interest without making the fish nervous in the clear water of the other flats in the area. I'm sure that more colourful flies would work as well, and when there has been a lot of rain a chartreuse job would probably be good medicine for Boat Pass. I tied my flies with silicon rubber legs and they looked good and shrimpy, even while stationary on the bottom. Tie the bonefish flies rather large, say, size 1-2/0, and take some Lefty's Deceivers and Popovic's Surf Candy-style baitfish imitations for the fish-eaters. My Desolation Baitfish is easy to tie and worked well on the trevally, and the dressing is giving in the box at the bottom of this page.
Running big
The New Caledonian bones have not been fished for much, and are not as spooky as on some of the more popular flats around the world. They also run big. The average seems to be about seven pounds or so, with lots of eight to ten pounders and some up to 12 and 14 just to keep you on your toes. Philippe caught a fish of 5lb that was the smallest he'd seen for some time. He hasn't yet figured out where the small fish are, but with so many big fish about he hasn't really made that a priority job. For a change of pace from the flats fishing there are other quarry for the fly-fisher, including yellowtail tuna and Spanish mackerel. For a real punch-up you can attach yourself to a GT, but frankly, all reports make me wonder if it's worth it. Apparently it's difficult to say who comes out the winner in these fights.
As to what you can expect, Brett Wolf and Rob Sloane fished with Philippe for a week last June and caught 39 bonefish, some huge Spanish mackerel and loads of trevally. Brett and his wife Simone went straight back to New Caledonia in August. It's good fishing. Philippe says that Rob and Brett's trout sight-fishing skills pay off on the flats. Dean Butler made arrangements with Philippe for my visit and offers some attractive packages for individuals or groups.
Keep in mind that New Caledonia is only two hours away from Sydney.
Factfile
If you go
At the Relais de Poingham, you will be cared for by Jean and Josie, sleep under romantic mosquito nets in thatched beach-side cabanas after dining at Josie's long al fresco table. Jean previously ran a successful Noumea restaurant and each day brings a culinary surprise from the Kanak villagers – once, a superb 50lb yellowfin tuna. Jean whipped up a personal starter for me from a quivering fresh trevally I'd caught that afternoon, marinating the raw fillets in freshly squeezed lime juice. Like many aspects of the sensual life, it was simply beyond words.
Pacific Angling Paradise, Philippe Leroux, BP 155, 98 826 Poum, New Caledonia. Tel 687 42 54 11; Fax : 687 42 54 11; Mobile: 687 78 55 54. Email bonefish@lagoon.nc.
Dean Butler's Sportfishing Adventures, PO Box 722, Nelson Bay NSW 2315, Australia. Tel (61) 249 849 294; Fax: (61) 249 810 006. Email dbsportfish@ozemail.com.au.
Wyatt's Desolation Baitfish
A descendant of Bob Popovic's Surf Candy family, this lure was originally tied for saltwater cutthroats of Desolation Sound on the west-coast of Canada. A good European saltwater sea trout pattern.
Hook: Stainless, straight- eye, 4-3/0.
Thread: White 6/0.
Under-body: None, or if extra flash desired, silver coffee wrapper Mylar (very strong).
Wing: White polar bear, with grey, mauve, and/or pale olive) polar bear over. Tied long and sparse.
Over-body: Pearl Mylar tubing. Tied in at eye, hanging forward off hook. Coat thread with 'Hard as Nails', then roll tube back over wing, creating a Mylar body. Fray ends of the tubing to mix with polar bear hair and add sparkle. Add epoxy eyes. Varnish heavily or epoxy.