Online auction this weekend closes 5pm Sunday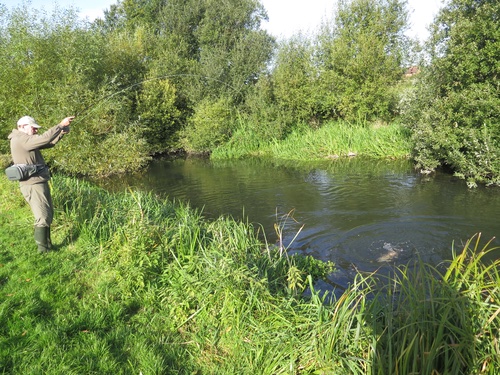 Lots include fishing all over the country and abroad too.
The Wild Trout Trust online auction, which has 366 listed lots, is open this weekend and set to close on Sunday, March 27 from 5pm.
The lots include a range of fishing gear, paraphernalia and fishings. Perusing the list is like taking a tour of UK and Ireland's fisheries, plus a few overseas sorties.
366 lots
The auction comprises 14 lots of fishing art, including prints from David Miller; a mass of fishing books; day-out experiences; shooting; fishing tackle; flies (including selections from FF&FT's Dave Southall and Allan Liddle); rods, reels; fishing overseas, including France; fishing in Scotland, Ireland and Wales; salmon fishing, guided reservoir fishing, wild trout guiding, and chalkstream rods; instruction; self-catering cottages; shared rods; donations of fishing in the south of England; 2 rods on the Lambourn with FF&FT's Charles Jardine; fishing on the Test, Bourne, Kennet, Dun, Dever, Dun, Upper Test, Wylye, Wandle, Loddon, Coln, Windrush, Allen, Meon, Rother, Tillingbourne, Darent, Chess, Wey; fishing in the Midlands, including the Wye, Lathkill, Dove and Derwent, and East Anglia including the Lark; fishing in the north of England, including the Tyne, Wear and Ullswater, Ribble, Hodder and Aire, and trout fishing on the Eamont, plus plenty more.
Starting prices go from £10 upwards,  with bidding on lots ending sequentially on March 27, starting at 5pm
How bidding works
Bidding on the site works similarly to leaving 'commission bids' at a live auction. You place a bid for the most you are willing to pay for a lot and, if you are the winning bidder, you will pay the amount necessary to beat the next highest bid. For instance, if you bid £100 for a lot, and the next highest bidder bids £50, you will only pay £55 for the lot, even though you placed a bid for £100.
For this reason, it is not necessary to closely monitor or repeatedly bid once you have placed your maximum bid. If you place a bid and are later outbid by another bidder, you will be notified by email, so that you may consider whether you would like to increase your bid. Though many canny bidders may raise their offer in the last moments of the auction, reducing the time you have to counter…
Closing times
The exact closing time of each lot is given next to its description. The highest bidder for each lot at the end of the auction on March 27, 2022 wins that lot.
All the money raised will go to the conservation projects of our native, wild brown trout and all manner of other wildlife that share the places where they live. This includes in-river management; planting; fish-passes; equipment for conservation, education, and work with NGOs.See all lots at: https://auction.wildtrout.org
Share